Auto Credit
Based on mLk's
idk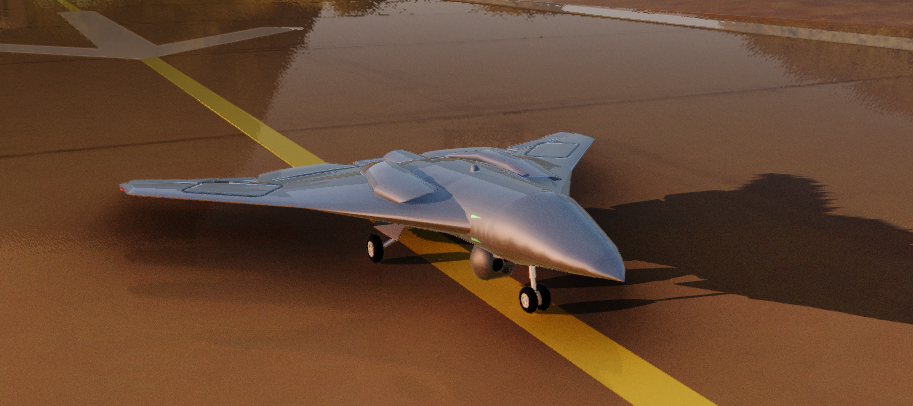 Description :
The MRQ-S.2 is the successor of the MRQ-S.
The MRQ-S.2 is an advanced recon UAV, equipped with a 2-axis camera pod, artificial stabilisation and stealth capabilities. This version is equipped with an air drop.
controls :
AG1 : activate camera pod (pitch and roll control)
AG2 : drop airdrop.
AG3 : activate artificial stabilisation
AG4 : lights
AG5 :
AG6 :
AG7 :
AG8 : disable aircraft controls
Trim : flaps
Instructions :
This is a flying wing. So it's not stable. I highly recommend you to use AG3 for takeoff.
When using the camera pod, deactivate AG8 and activate AG1. Camera 1 is for the camera. The camera is controlled by the pitch and the roll.
pics (by tucan) :
Enjoy !
upvotes are appreciated ehe
Specifications
General Characteristics
Predecessor

idk

Created On

Android

Wingspan

26.0ft (7.9m)

Length

22.7ft (6.9m)

Height

5.8ft (1.8m)

Empty Weight

7,623lbs (3,457kg)

Loaded Weight

11,401lbs (5,171kg)
Performance
Power/Weight Ratio

2.956

Wing Loading

50.4lbs/ft2 (245.9kg/m2)

Wing Area

226.4ft2 (21.0m2)

Drag Points

2752
Parts
Number of Parts

144

Control Surfaces

3
---