Thanks for all precious Upvotes and Spotlights! (:D)

From Japanese anime Knights of Sidonia (2014, based on the manga of Tsutomo Nihei), the Garde (military mech in the story, called Morito in Japanese) piloted by the protagonist Nagate Tanikaze. Type-17 Morito was developed by Toa Heavy Industries 100 years before the story and became the legend that protected Sidonia (the massive starship of human beings) from the invasion of hostile alien species Gauna.


Tsugumori is designed by Mr.Nihei. It looks simple but impressive. The huge thruster backpack brings it incredible speed and acceleration, and the slender white figure gives people the impression of a glorious knight. It is powered by Hyggs Particle, which works as both fuel and weapon.
And I tried my best to reduce part count as usual, so 526p only~
(actually about 70p is for logos)
Controls
AG1 activate PID float for flight.
LandingGear switch between normal mode and cruise mode.
Throttle thruster output.
Also, when Throttle=0 or pitch angle>-60,
Pitch for moving forward/backward, otherwise for moving up/down (the directions of Tsugumori's body)
Brake speed down and move backward (the pose is different)
Yaw turn (I recommend you to do fast turn only when your speed is under 5000km/h, or you may lose control for a while.)
Roll move sideways, also help you turn more flexibly.
VTOL adjust pitch angle (also when you VTOL up/down, you can turn faster.)
You can reach a speed higher than 10000km/h at cruise mode stably. (full Throttle, Pitch to the top, near the sea level.)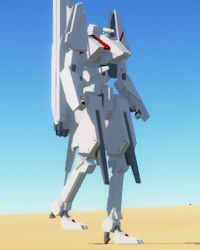 AG2 enable walking function. (no running function this time because not so practical, but you can reach a speed about 36km/h.)
Throttle walk Yaw turn
Armaments
Trim to fine tune shooting angle/attack pose of these weapons if you need.
Hyggs particle cannon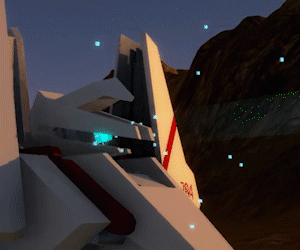 fire after load, consume Hyggs particle (fuel). thanks to PlanariaLab for his auto-aiming ft (works in the range of 7km)
(when you are at cruise mode, vertical ±15° only. so if you are high up in the sky, switch to normal mode to attack the targets below)
high fire rate Gatling gun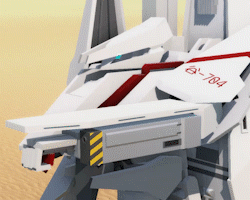 AG3 to activate, loaded with 6000 rounds actually (another 6001 are cartridges for decoration)
2x Eishin Sakuretsudan (missile)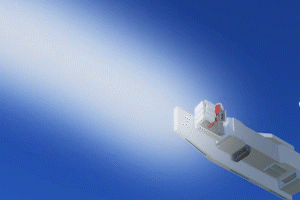 AG3 to activate, you can still launch them as rockets even if you haven't selected target.
2x high vibration blade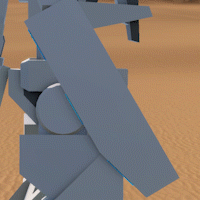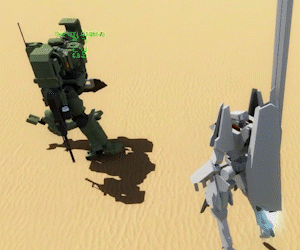 AG4 to activate, for close combat. You will automatically face to the target, then FireGuns and Roll to attack when you get closer. but the retractable structure is weak, caution explosions of the the damaged targets.
ballistic acceleration device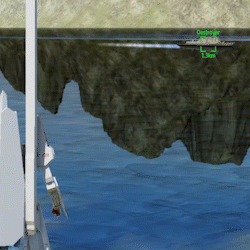 AG5 the main weapon, do extraordinary damage, but the recoil force is high.
(Activate4 at the same time when you attack targets and you will find something interesting)😏
feel free to express your opinion in the comment.
Enjoy it~
ps.
the version using extended ballistic acceleration device
and the version equipped with Kabizashi will be uploaded later.
Specifications
General Characteristics
Created On

Windows

Wingspan

22.8ft (7.0m)

Length

35.0ft (10.7m)

Height

100.2ft (30.5m)

Empty Weight

-2,288lbs (-1,037kg)

Loaded Weight

3,029lbs (1,374kg)
Performance
Power/Weight Ratio

32.27

Wing Loading

1,125.7lbs/ft2 (5,496.4kg/m2)

Wing Area

2.7ft2 (0.3m2)

Drag Points

21
Parts
Number of Parts

526

Control Surfaces

0

Performance Cost

2,047
---