I have a unique hobby, something I've been doing for many years. I like to go to the App Store, go to different games, and read the reviews. And believe me, it is a goldmine of forum post material.
.
I decided to go see what people are saying about SimplePlanes. And oh boy: it was wild. I chose a few of the best (or rather, worst) for your enjoyment.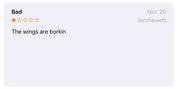 Those darn borkin wings. Can't believe it's been a whole year and the wings are still borkin.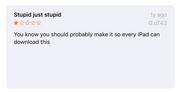 Has it occurred to you that maybe you're using an old and crappy device? You can't expect the game to run on every single iOS device. Unless of course you're a child.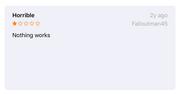 Really? Nothing at all? Does the game launch? If not, then nothing works, but I'm pretty sure it did. If you want to give honest feed back on the game, then good. But this is just silly.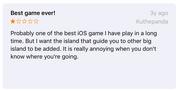 "Best game ever"
1 star
Seems logical to me.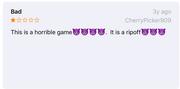 Ripoff of what? And why the devil faces?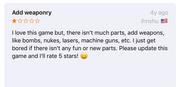 Well this didn't age well, did it?
Nukes are still a good idea.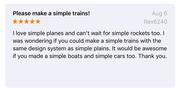 What's RailfanEthan doing here???
.
And now, my personal favorite:
.


Alright moderators, you heard him. You've got until 2:20 tommorow...... or else.
Seriously, this is so gosh darn hilarious. Not only is he absolutely pathetic for asking his account back, but to ask on the Apl Store review page? That's got to be a first. He also admits that he's underaged,,and in case you wondered yes his name on the review is also his SimplePlanes username. He's still banned (according to him for 10,000 days), but he's got at least 4 more years until he's gonna be back here.
.
SimplePlanes is a really good game, but it's definitely not faultless, so it's good that the devs can see feedback. And it's also great that we get to see these dumb commenters humiliate themselves.
-The Awsomur