I'm sure you've seen it or though about it before. Why does X aircraft look like Y aircraft even though they were made by completely different countries?
I'll throw a few examples your way:

J-20 and Mig 1.44

F-22 and SU-57

T-4 and XB-70

B-1 and TU-160
Now you'd be forgiven for thinking one was a copy of another.
Background
Now, in every aircraft company are a series of talented engineers which work as a team to draft, design test and manufacture an aircraft. Each aircraft part is specifically designed with a purpose, from the airframe to the grommets and bolts. Most of these processes and technologies are closely guarded from said companies. So, counterintuitively, it seems odd that not only companies within a country, but also outside of a country can create such similar aircraft designs when a lot of the designs, systems, etc are so closely guarded by official secrets, non-disclosure agreements, etc.
Now, while copying in the aviation industry does exist (TU-4 is a perfect example of this), the reality can, and often is a lot more complex than it first seems.

TU-4 was a reverse engineered B-29
The J-20 and Mig 1.44
Some have simple explanations. For example, the J-20 isn't a copy of the Mig 1.44 (contradicting what many websites would have you believe) as its origins can be traced back to 1971 with the development of the J-9 with the image below being a wind tunnel test model of a proposed twin engine design for the J-9: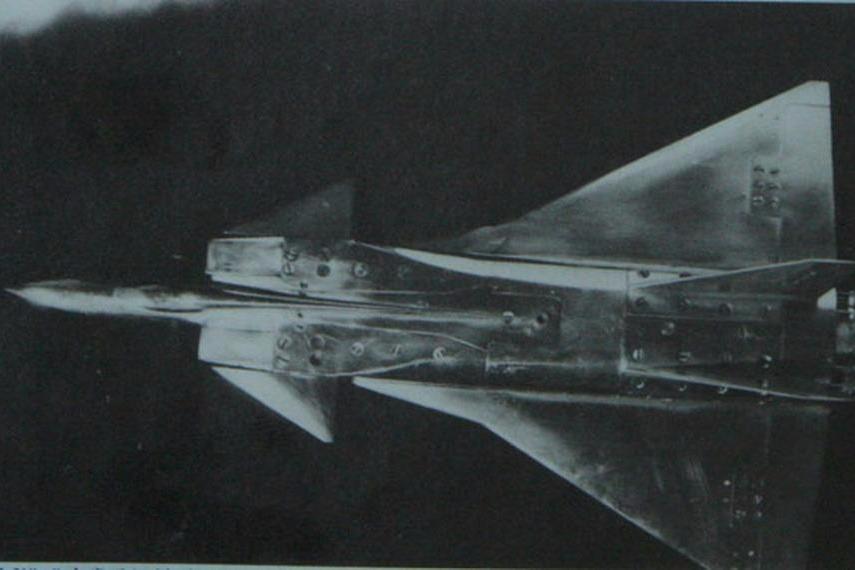 J-9 Wind Tunnel Test Model
However, other explanations are a lot more complex.
Understanding Aircraft Design
To understand why other designs like the TU-160 and B-1 along with the F-22 and SU-57, etc look so similar we need to investigate the origins of the aircraft developed.
The first step in aircraft development is to acknowledge a problem in the industry. A gap that other existing aircraft have issues filling. In the case of the B-1 and TU-160 it's high speed bomb delivery and with the SU-57 and F-22 it's radar evasion in air superiority. Once the inadequacy in operational capability has been determined, specifications need to be set in place to establish what the final product should be able to do in order to fill in the operational deficiency as efficiently and effectively as possible.
Note: I have oversimplified the examples below to better illustrate the point.
B-1 and TU-160
In the case of the TU-60 and B-1 it was to:
Fly at supersonic speeds
Carry a payload of around 50,000kg
Have a short take off distance to increase operational availability
So how do you design a plane in the 1970s that can achieve those specs? Well, one way of helping hit all three of those requirements is to use variable geometry wings. These are also large and heavy aircraft and need a serious amount of power to push them to those supersonic speeds. So, 2 turbojets aren't going to cut it, so 4 turbofans/turbojets are a lot more practical. Unfortunately, you can't fit 4 jets in a fuselage that has space taken up by a bomb bay and a swing-wing mechanism, so you must mount them underneath the aircraft. Unfortunately, the exhaust is now in line with where the horizontal stabilisers will be, which isn't a great idea, so you opt for a cruciform tail design.
As you can see it's very easy to end up with a convergence of aircraft design when the specifications and technological limitations at the time dictate a large amount of what the finished product will look like.
F-22 and SU-57
In the case of the F-22 and SU-57 it was to:
Have a long range.
Have stealth characteristics.
To contend with and defeat other aircraft.
Long story short the aircraft will need the following features in order to fulfil the specs above:
No right angles (especially exterior angles as they reflect radar.)
Use Parallel surfaces to reduce radar cross section. Also known as "planform alignment":

Planform Alignment on an F-22
Use 2 engines for greater power and cover distances faster than a single engine (can also equate to greater range.)
Store internal weapons such as missiles internally to improve stealth.
Twin tail (a single tail means an exterior 90 degree angle is created. The image below better illustrates the issue with right angles on an aircraft.)

The Effect of Right Angles on Radar
Again, the specifications the aircraft must live up to limit what the product looks like. If two countries set similar specifications for a product, the results from both companies will naturally look very similar due to a convergence of design.
The Bigger Picture
Take airliners as an example. There's only so many designs you can make for a short-range jet that carries 150 passengers.


737 (Top) and A320 (Bottom)
Of course, these things aren't just limited to aviation, or human inventions. To see how wide the phenomenon extends, we can look at convergent evolution. The Shark, Dolphin and Ichthyosaur are perfect example of a problem being solved with the same solutions, despite evolving on separate timelines. Reptiles, mammals and fish came up with the same solution to a very similar problem through this convergence to the point where an uneducated person might assume these were just variations of the same species.
In this case, the solutions to living efficiently in water were:
Aerodynamic body to reduce drag
Pectoral fins for steering
Dorsal fin for stability
Tail with a wide surface area at the tip for propulsion

Convergent Evolution in Reptiles, Mammals and Fish
Conclusion
While there are undoubtable copies of things out there, such as the T-4 mentioned earlier, two things looking similar doesn't necessarily mean they are a copy, but rather a convergence established by limitations derived from a predetermined specification.
In reality, having 2 designs or looking so similar despite having different origins is a reinforcement that the design used for said object is very good for its application, meaning that the similar products are likely highly capable at performing the task they were designed for.
Next Post: Engine Types: Part 1