Suggest what will be reviewed next week here!


Moi!
The time is upon us for another SimplePlanes Weekly. Shall we begin?
SimplePlanes News:
-RailfanEthan is four years old and doesn't need a diaper anymore. Never thought he'd outgrow it.
-Yeah that's pretty much it.
Teaser of the Week:

FreeRangedLemon has some sort of plane in development. Honestly have no idea what it is but it looks sick.
Video of the Week:
Gameboi14 made a paper airplane. I honestly don't even care about the face reveal. I just wanna see that plane.
Meme of the Week: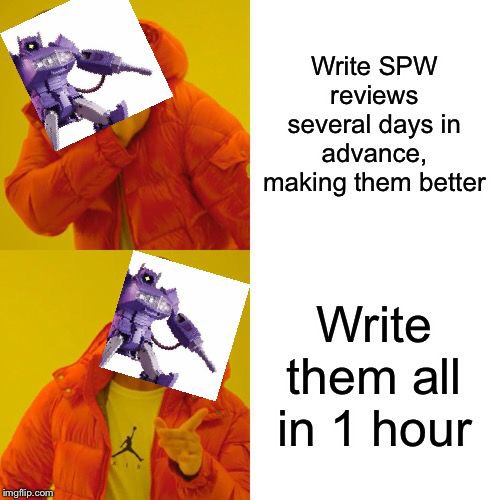 By Epicur
Reviews
All of these reviews were suggested by you, the readers of the SPW.
This fictional race car looks very cool and performs good as well. Most of the structure is built pretty well, but there's a few spots where it looks kind of rough. The speed is realistic for what it's trying to be, and the steering feels pretty good as well. This is an all-around good creation, and I look forward to seeing what he has coming up next.
I've always been a fan of a four wheelers. Some of my fondest family memories are of playing MX vs. ATV on the PS3 with my cousins.
But what about this ATV? Well, let's just get this out of the way right now: the driver moves when you turn the vehicle. That alone would makes this thing amazing, but the looks and performance are also very good. Although the detailing is a little sparse, the structure on it is very pleasing to look at. As for performance, the speed is realistic but it nonetheless has a problem with flipping over. It's might be pilot error, but at least it was quite hilarious to see it fly through the air. All in all, it's a good ATV, but not perfect. (although not many things are)
At only 116 parts, this plane is small but mighty. With realistic shape, paint, speed and armament, this is a really great Mirage. The landing gear also retracts automatically.
That's all for this week's edition of the SimplePlanes Weekly. Happy flying!
-The Awsomur