For one week only I have hijacked the SimplePlanes Weekly newsletter from Awsomur as he is unable to post this weeks update.
Awsomur had this to say:
For the first time ever, they'll be no SPW this week. That's because Monday snuck up on me and I forgot to write the Weekly yesterday, and all the sudden multiple things have popped up which I have to attend to. I promise to get back on schedule for next week.
1:
IN OTHER NEWS
Andrew Garrison teased us some more with another preview of simplerockets showing off some cool re-entry effects: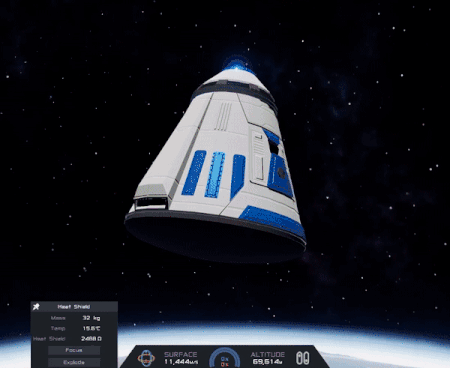 The highly anticipated game is rumoured to come out later this year. No pressure devs.
2:
Overloading Simpleplanes
It's been in beta for a little while, but those with keen eyes... or just those that go on the forums all the time, will have noticed WNP78 has officially released a new update for his game-changing mod, "Overload". Overload now adds drag attributes to parts, updated user friendly UI and a few other features which you can find out more about here. On behalf of the community I thank you for your service, WNP78.
3:
A Healthy Slice of Earth Pie
Phoza broke the shocking truth 4 days ago after announcing that all flat earth theorists are simply just paid actors. The news shocked a number of users in the community, especially since it's allegedly a distraction from the lizard people.
However, I think a part of all of us always knew that the dinosaurs hadn't really died out.
4:
Sauce is Back and... Saucier than Ever?
3 days ago user Sauce made an announcement that he'll be back for 10 days. So make the most of it while you still can, people.
Are sources/sauces have also told us they know where Sauce lives and have shown us evidence in the form of the following image:
——————————————————————————————
——————————————————————————————
Interview With Humperdincklbert:
Some of you may know Humperdincklbert from some multiplayer sessions. Well now, the man. The myth. The legend, has joined us for a once in a lifetime interview, here at the SimplePlanes Weekly.
Q: So some users here will be wondering: "we've never seen you before?" So could you first tell us a little bit about yourself?
A:

Well... Uh... Thanks for joining us Humperdincklbert. We hope to see you around sometime.
——————————————————————————————
——————————————————————————————
Mentionable Builds:
(all text below is hyperlinked)
——————————————————————————————
——————————————————————————————
USER SHOUTOUT:
please don't tag this user in the comments: that's really tacky!
I'll be honest. I'm surprised an account this old is still bronze. You sir (or madam) get a cheeky follow from me... Even if you have only posted once in the last 2 years.
That's all for this week's news. Have a safe and enjoyable rest of your day/night.
-Squirrel