-Navigation
Damage model tutorial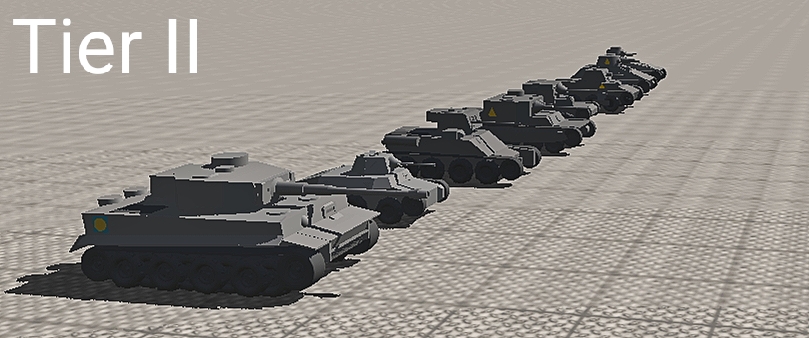 ---
List of all tier II vehicles/tanks
Tier II is a list of both fictional and real designs that saw active service during world war II, or rather, a fictional version of world war II, these includes designs from the early years of the war till the very end.
---
Newer generation
Lower part count than the older generation while still retaining the same quality, more effecient for multiplayer as most likely a mobile device could run at least 2 or 4 smoothly.
(in no particular order)
---
Updated newer generation
Changes: Link to full explanation of changes
-Less prone to overkill
-New engine setup
-360 rotating turret
-Lis-02.a
-T-803
-13-CM
-Cromwell
-Lt-2.tw5
-T-31lt updated
-Loe medium updated
---
Newer generation
-Armoured chariot
-LOE medium
-Model.2 Medium
-Model.1 Medium
-Kliment voroshilov 2
-Bt-5
-Bt-5 Amphibious
-T-31 Light
-17T
-Pz.kpfw-VI Sturmtiger
-Pz.kpfw-VI
-Pz.1T
-Pk-3
-Pk-3 Medium
-Pk-4E
-Pk-4
-Pk-4/5 Heavy
-Pk-8LL
-HavilleT1
-Ts1-T1
-T-1
-T-12 Wagon
-T-11 Wagon
-Toors-1b
-Jose Armoured car
-U.truck(Type02-25.plat)
-Btlf-13/40
-AMX 20/37 (Not posted)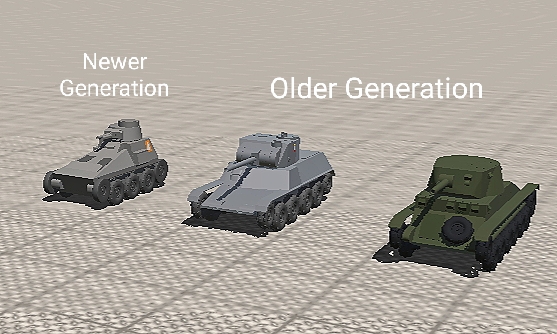 ---
Older generation
Much less efficient in terms of part count, and existed in a time where I still lacked skill level, still comes with the same damage model and scale.
-Pk-42 Medium Light
-PK-Tor31 Medium Light
-Type6 Medium
-Btlf-Type18
-Type3
-LOE Heavy
-LOE Medium
-Medium 2H
-134-Cm-Lis
-CSSL3-LIF
-HT.II
-HT.IA
-HT.IS
-MT.II.75
-MT-TD I/II