Today is the start of Steam's Winter Sale. Also, we are running a sale today on all of our mobile games on iOS and Google Play. One game, in particular, is actually free today on iOS and GP.
The new update for SimplePlanes is now available for download. We hope you enjoy the new tank cannon part, designer enhancements, advanced targeting, and a whole lot more! Here's the update trailer for the SimplePlanes 1.9 update: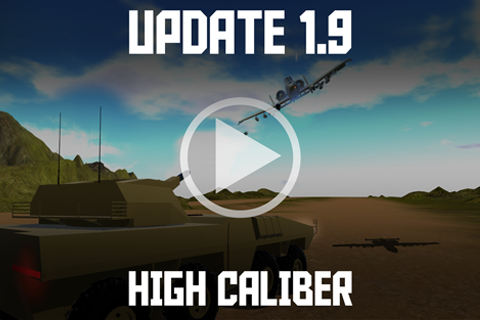 William added a new customizable tank cannon part and it is even more fun than expected, especially when combined with the new Advanced Targeting integration (thanks, Nicky!).
We've been having Dude Perfect style competitions by trying to blow stuff up from Wright Airport. The ships are a fun challenge, but Philip set the record when he blew up a Krakabloan bridge from Wright Airport. Who will be the first to oust Philip from this record?
Unfortunately, we needed to remove mod support from the Android version with this update due to technical reasons. You can read more about that in the change list below. Fortunately, we knew two very famous mod authors who allowed us to bundle the FineTuner and Overload mods with the game. Now, even iOS players will have access to these mods.
Nicky integrated his Designer Suite into the game, so now you'll have access to all kinds of goodies like the blueprints overlay, orthogonal view, x-ray vision, and manual part connection editing. He also added a Funky Trees, which are an advanced way to blend inputs via XML modding. Some players are already using them in very / creative / ways and building things that would never have been possible before.
Here's the complete change list for 1.9:
UN-FEATURES
First, let's get this out of the way. Unfortunately, mod support has been removed from the Android version for technical reasons. Google now requires 64-bit support. Unfortunately, mod support in SimplePlanes is dependent on Unity's version of Mono, which is limited to 32-bit.
To be clear, this isn't Google's fault and it isn't Unity's fault. It's really not anyone's fault, it's just that the technologies we are using have shifted in an unfortunate way.
To compensate for this, we've bundled two of the most popular mods into the game: FineTuner and Overload. Also, Nicky has integrated his Advanced Targeting and Designer Suite mods into the game.
FEATURES
Added new Tank Cannon part.




Several customizable properties such as Caliber, Barrel Length, Muzzle Brake, Recoil, Projectile Velocity, and a whole bunch more.



Added new stock craft: Jackhammer, an Armored Personnel Carrier, created by @EternalDarkness.
Bundled Fine Tuner and Overload mods with the game, so Android users can still use them.
Nicky fully integrated his Advanced Targeting and Designer Suite mods into the game.
Advanced Targeting




Displays trajectory line and impact point for bombs and also for the new tank cannon.


Includes a Predictor quality setting for low-end devices, or if you just want to turn it off.



Designer Suite




Attachment Editor - Manually add or remove connections between parts.


Blueprints panel - Overlay a reference image in the background of the designer.


Orthographic View


X-Ray Vision



Funky Trees




Nicky brewed this up in his experimental laboratory. They aren't your traditional trees, but rather an expression parser so you can write actual code that is evaluated for input controllers. Intended for XML modders, these allow you to blend inputs in any way you can imagine. For example: <InputController.State input="Pitch + Trim/8 + Roll/2" />


More details here.



Added support for switching between Metric, Imperial, and Nautical unit systems.
Added Ground Speed, Indicated Air Speed, and True Air Speed modes.
Added weapon naming and multirole weapons.
Added sliders for Metallic and Smoothness to paint flyout.
Added hex color textbox to paint flyout.
Added ZeroThrottle and MaxThrottle inputs.
Upgraded to Unity 2018.4.
Performance Boost on Android. The silver lining of losing mod support on Android is that the game will now run a little faster.
Added ability to change how parts respond to collisions (aka disable exploding parts) via XML "partCollisionResponse" attribute. The options are Default, DisconnectOnly, and None.
TWEAKS
Added support for the Dev Console on mobile (tap settings header x5 to activate and then 3-finger tap to open/close).
Tweaked touchdown physics and added smoke effect.
Added Tournament Validator to aircraft properties.
Added ignitionDelay attribute to missiles.
Added waterproof attribute to missiles.
Added shortestAngle property to JointRotator.
Added hingeOffset parameter to JointRotator.
Fixed normals on hemispheres.
BUG FIXES
Fixed bug causing hubHeadScale to not react properly w/prop blur.
Fixed a bug with mirroring small parts sitting on the mirror plane.
Fixed issue w/low-pass filter on explosion SFX.
Fixed bug causing explosion SFX delay to be based on craft's position instead of the camera.