𝓘𝓷𝓽𝓻𝓸𝓭𝓾𝓬𝓽𝓲𝓸𝓷
'Ride of the Valkyries' has represented the most iconic helicopter in Vietnam War Era, the UH-1 Huey. In the first phase of its service, the Huey primarily used for Air Ambulance and light transportation. This light helicopter also known for its versatile airframe allows more variants built. For example, UH-1B, UH-1D, AH-1 and the latest UH-1Y. In this Airshow, we would present the Legendary Helicopter UH-1D Huey for 'A Return of the Valkyries'.
---
𝓗𝓲𝓼𝓽𝓸𝓻𝔂
The Huey UH-1 helicopter (from the HU-1 identification letter) reached maturity as a weapon system during service in Vietnam. This helicopter is small, flying fast, can fly low and can be modified into several configurations according to the needs of the situation. Huey's helicopter was successful because it used a lightweight but powerful Lycoming jet turbine engine. The helicopter was based on the Bell 204 helicopter and was named HU-1 (which led to its nickname Huey). In 1962 , this helicopter was accepted into the United States Army with the UH-1 identification name.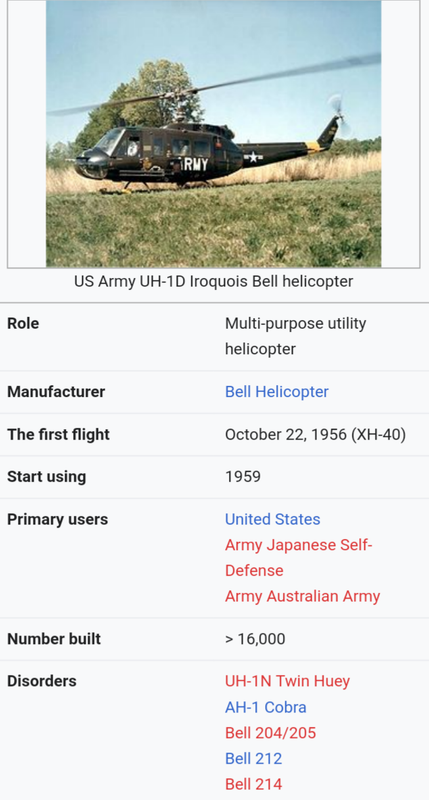 ---
𝓒𝓸𝓷𝓽𝓻𝓸𝓵
Standard control for Pitch, Roll and Yaw.

Throttle to start the engine.

VTOL for Collective Pitch

Activate1 to open Cockpit Doors.

Activate2 to open Cabin Doors.

---
𝓟𝓱𝓸𝓽𝓸𝓼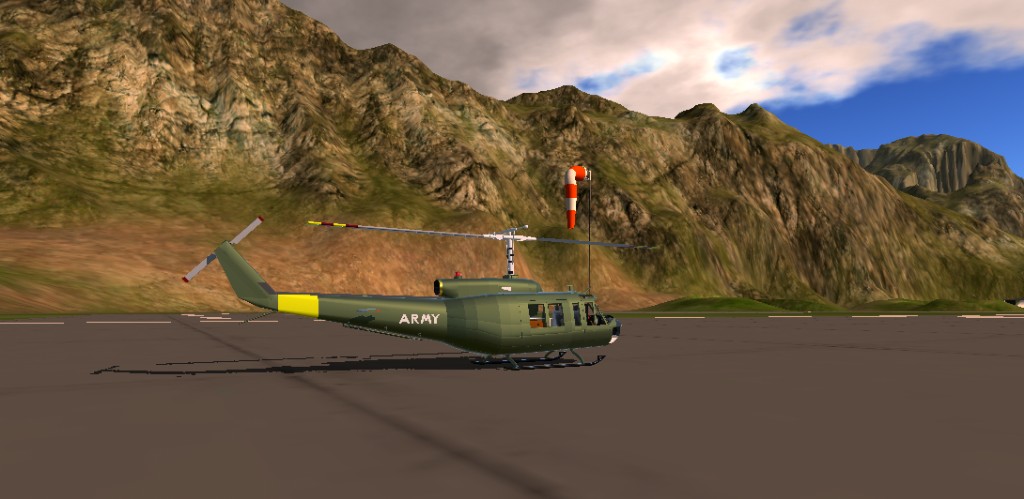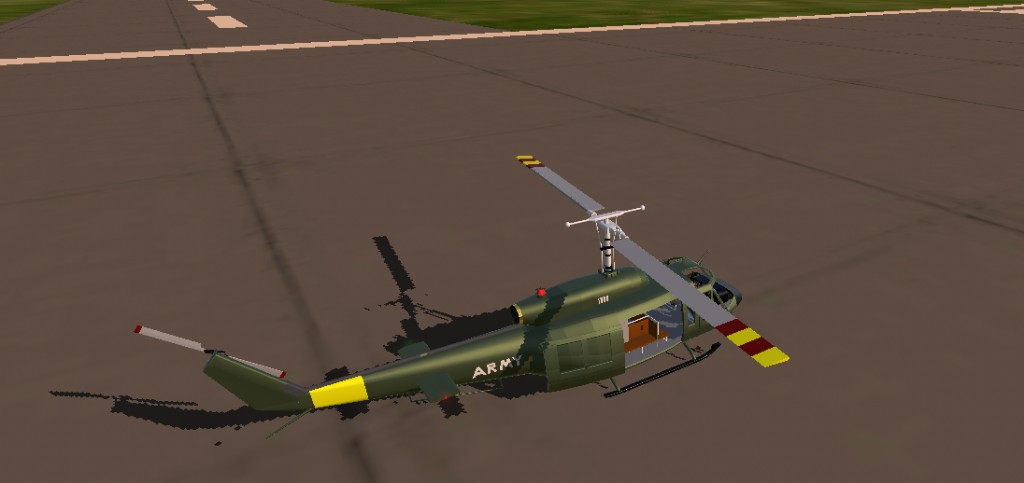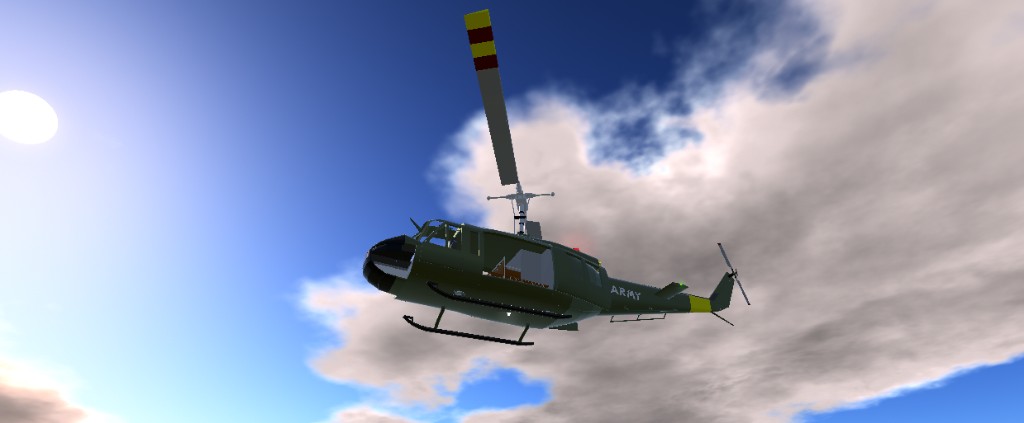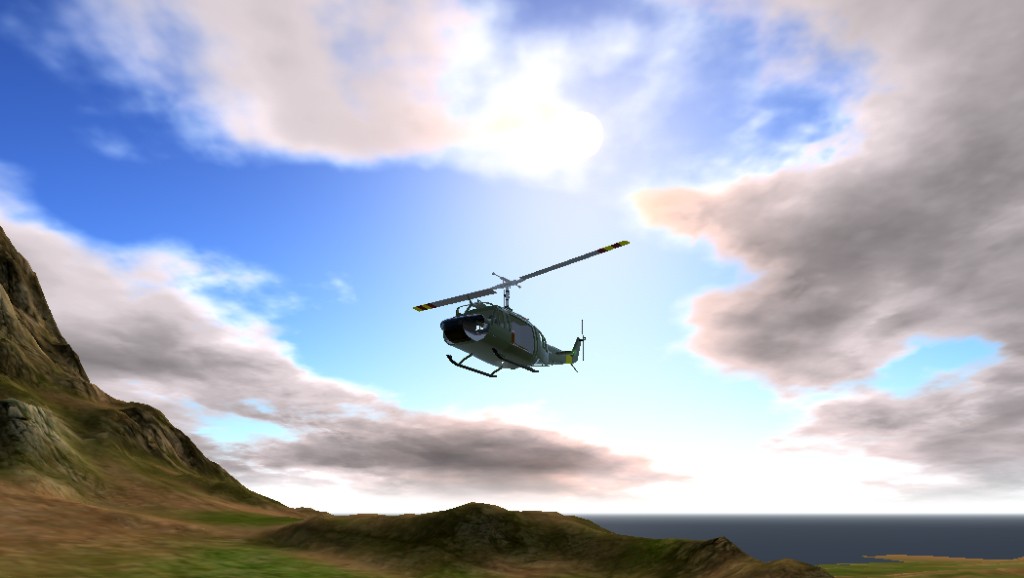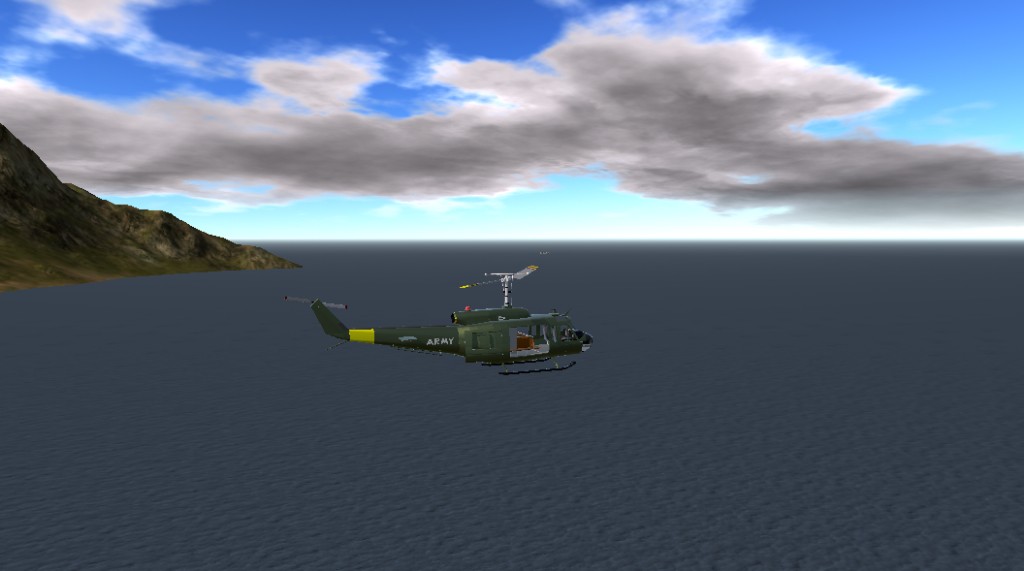 ---
𝓘𝓷𝓯𝓸 𝓘𝓷-𝓰𝓪𝓶𝓮
Top Speed: 135 mph. (It could accelerate to 170 mph. Stop the cyclic pitch when you reach the Top Speed Level for better handling and reducing Overspeed chances.)

Use Medium or High Physic to fly properly.

Use Roll and Yaw for delight turn while in high speed.

1/2 VTOL were recommended for better Take Off and Hovering.

---
𝓗𝓲𝓰𝓱𝓵𝓲𝓰𝓱𝓽𝓮𝓭 𝓡𝓮𝓿𝓲𝓮𝔀𝓼
It can't maneuver properly. Idk what settings you put in your hidden main rotor or gyro, but a chopper should be able to do loopings and barrel rolls, which your chopper isn't capable.

I'd also recommend for making the hidden main rotor with only two blades for better simulation. In fact, that the Huey has only two (like shown by your custom main rotor).

Also about maneuvering, I also wanted to say that it's really bad that we can't quickly brake with a sudden pitch or make quick turn by making 1/4 barrel roll and quick pitch, which complicates the maneuvering process a lot. :/

Just a tiny bug when you land it, the main rotor would Overspeed and then explodes launching me into the stratosphere at 20,000+ km/h.

---
Thank You So Much Guys, I Hope You Enjoy It.
Specifications
Performance
Power/Weight Ratio

7.19

Wing Loading

487.4lbs/ft2 (2,379.7kg/m2)

Wing Area

10.3ft2 (1.0m2)

Drag Points

150
Parts
Number of Parts

500

Control Surfaces

1
---