Hymn to the Stars
Listen, as the Sky sings
---
Information
Possesses an Airframe that was meant for swiftness, carrying dual Powerful Linear Fusion Pulsers, the Asteria Exceeds the other XT-F's in Acceleration and Top Speed, but still cruises in the same Air Speed for formation capabilities. This one is a Flügel type, through many Battles it has survived and it had been granted Superior Armaments and Armor Plating.
Battle Veterans such as these are very recognizable because of the Ornaments and Gold Lining around the Unit.
Classification : Tier-3 Fighter Aircraft
---
Armaments
          -2x Linear Fusion Pulsers (FireGuns)
          -2x UAV Plasma (Air to Air)
          -10x Nano Darts (Air to Air)
          -6x AG-HR MSL (Air to Ground)

---
Activation Groups :
Group 1 : Thruster Override + Additional Thrusters
Group 2 : Combat Maneuvers
Group 3 : Switch Vertical Rudder Mode
Group 4 : Activates the Linear Fusion Pulsers
Group 6 : Activates Weapon UAVs
Group 8 : DoNT TurN diS oFf AIGHT?!


---
Linear Fusion Pulsers
While the other one reloads the other one shoots.
good energy efficiency, spontaneity, Fresh from the Funky Trees Oven, and most importantly, feels like PLSL from AC Franchise!
Uses Aim Assistance
Aim Assistance makes your bullet hits if it misses the target as long as its nearby
More than 100% Eff means that it will have a chance to deal double Penetration Damage
Gun Critical Range and Aim Assistance is both summed into a single Percentage each few Km below
0-750 M (60% Eff)
1-2 KM (120% Eff)
2-3 KM (175% Eff)
4-5 KM (100% Eff)
6-7 KM (25% Eff)
7KM+ (10%Eff)
i made this to make Single Shot Weaponry to be a viable option
comparable with how good TLS Weapons are.
---
Plasma UAV's
yeah sorry i just really love UAV's i cant stop messing around with them :(
but hey they also got some new Advancements
they are now better at tracking targets!
and you can see them easier as well!
Press FireGuns to tell them to fire btw
---
Landing Gear
HERE IT IS! ONE OF THE MOST REQUESTED THING!!!
LMAO sorry i dont really like wheels, soo il just give you guys hover ability
jk the reason why i did this is for Low Parts Count + Lore Immersion.
and no it does not have any impact on flight cuz it Activates only when you are near the ground with Landing Gears active
to take off you just simply press that landing gear button like a normal plane after getting some speed and just fly away!
---
Special Conditions
When Hovering, Plane will automatically slow itself down
Full Throttling will make the Plane Auto Balance itself (NO GYROS) soo you dont need to use the Trim
Use The Trim when you Activate Group 1 (extra Thrusters) to balance yourself sorry i didnt make more auto balancing Rotators cuz im chasing low parts counts
and sorry no cockpit for this build (i rarely use them and they eat like 100 part counts)
---
Screenshots there are no more Info beyond this Point
Demo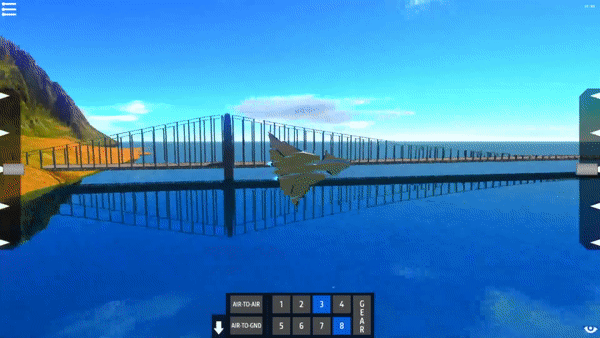 Specifications
General Characteristics
Successors

1 airplane(s)

+14 bonus

Created On

Windows

Wingspan

28.9ft (8.8m)

Length

39.8ft (12.1m)

Height

6.3ft (1.9m)

Empty Weight

-4,734,385lbs (-2,147,483kg)

Loaded Weight

2,568lbs (1,164kg)
Performance
Power/Weight Ratio

141.752

Wing Loading

10.2lbs/ft2 (49.9kg/m2)

Wing Area

251.3ft2 (23.3m2)

Drag Points

873
Parts
Number of Parts

327

Control Surfaces

13
---